The plant is ready: the future of Bussi goes through SCB's sodium chlorite
---
THE REBIRTH OF THE INDUSTRIAL HUB
---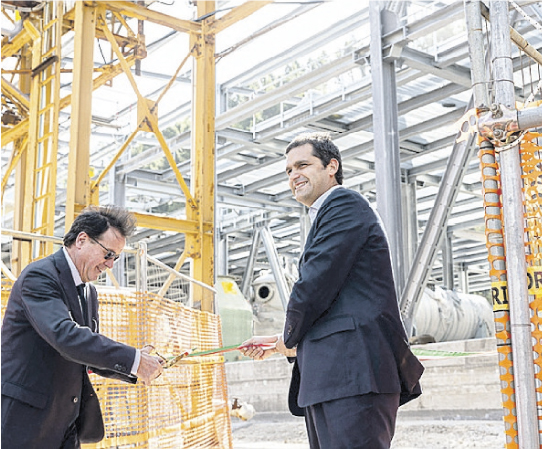 BUSSI OFFICINE An investment of 25 million euros and 25 new jobs by the end of the year. The announcement of Società Chimica Bussi, which yesterday presented the final phase of construction of the new sodium chlorite plant, is one of those that had not been heard for some time at the Officine. The ceremony, which was attended by Regional Councillor Mauro Febbo, by President of the Regional Council Lorenzo Sospiri, Councillor Giovanni Legnini and General Manager Barbara Morgante, was the occasion to talk about the development projects of the chemical company.

"We are continuing on the path of development in the name of environmental responsibility – explained the Chairman and Managing Director of SCB, Domenico Greco – by giving competitiveness and prospects back to a chemical hub of international importance".

The re-industrialization of the Officine restarts, therefore, from sodium chlorite, an essential material for water treatment.
"The necessary energy – Director of SCB Giuseppe Buzzi explained – will be self-produced through a new high-efficiency trigeneration plant". An event to be framed, for President of the Region Marco Marsilio: "Finally we are starting to consider Bussi at an environmental level, moving towards the future". The satisfaction of the productive world is also tangible.
Luigi Di Giosaffatte, Director of Confindustria Chieti-Pescara, who attended the ceremony, commented: "The gratitude of the association goes to Managing Director Domenico Greco for having invested in Abruzzo and in particular in an industrial site that can boast more than one hundred and ten years of history".
written by Floriana Bucci
Il Messaggero 3/10/2019